Prime ScratchCards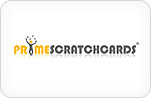 There are a lot of reasons why Prime ScratchCards is so popular among players: The games load instantly; the site is accessible in different languages; and players are able to win seven-digit jackpots in multiple currencies.
In addition, all new players receive competitive offers to encourage them to convert.
As for affiliates, for all the above reasons, Prime ScratchCards is an excellent site for ambitious affiliates to promote. Plus, to help them in their efforts, customized promotional codes are available for their website visitors, upon request.
Revenue Share
25% up to 45%
CPA* (per depositing player)
Competitive rates
CPL* (per registering player)
Competitive rates
* Depends on various factors