LuckyMe Slots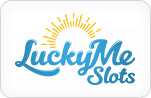 LuckyMe Slots is a fun, exciting and brand new online casino brand with the best collection of the most popular slot games available on the market.
LuckyMe Slots is a great introduction to the exhilarating world of online casinos, but also an amazing opportunity for experienced players due to the extensive collection of games for all levels.
LuckyMe Slots has it all: classic slots to high-resolution, action packed games to 3D-video adventurous games and a huge selection of live table games.
Revenue Share
25% up to 45%
CPA* (per depositing player)
Competitive rates
CPL* (per registering player)
Competitive rates
* Depends on various factors